Written by One Step Retail Blog Team
---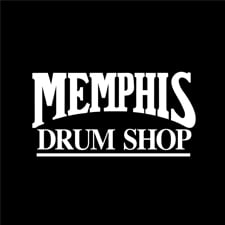 Located in Memphis, Tennessee, the true home to Blues, Soul and Rock 'n' Roll, Memphis Drum Shop's impressive range of drums, cymbals, and percussions has made them a go-to for local and world-renowned musical artists— including Steve Gadd, Chad Smith, Dennis Chambers and Greg Bissonette. But, their world-famous clientele is not the only reason they have become a staple in the Memphis music scene. Their commitment to servicing the needs of music aficionados across multiple online destinations and a brick and mortar location has helped them build a strong following of loyal customers and has led to the accolades of "Independent Retailer of the Year" by Music Inc. and "Best Single-Store Percussion" by Music and Sound Retailer.
"As a professional drummer, I've toured 90 countries around the world. I go to drum shops all over the world for my drumming needs. This is the best drumming shop worldwide, not just in the U.S."— Tony Coleman, R&B and Blues Drummer (Memphis Daily News)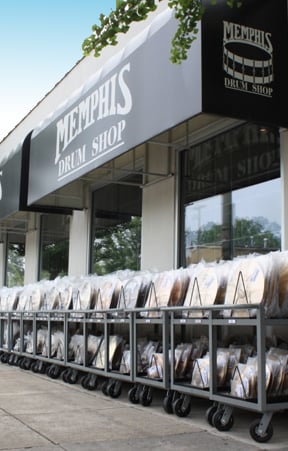 Opened in 1987 by owners Jim and Nancy Pettit at its original location on Madison Avenue, the Memphis Drum Shop was moved in 1999 to the ever so popular Cooper-Young district in midtown Memphis. As the years passed, the shop expanded its physical footprint, not by opening up new stores, but by increasing its space to encompass the end cap of an entire city block. Soon with technology opening up new sales channels for retailers, Jim and Nancy took on the challenge of reaching out to new audiences by selling online. In fact, today the Memphis Drum Shop does not see itself as a brick-and-mortar business. Instead, they see themselves as a digital business with a physical store.
Their venture into e-commerce has resulted in three successful online stores: memphisdrumshop.com, mycymbal.com, and memphisgongchamber.com. With Memphisdrumshop.com operating as the overall umbrella for all of their product offerings, mycymbal.com and memphisgongchamber.com offer their customers a more in-depth and interactive customer experience with a wide assortment of custom-ordered, used, and name-brand gongs and cymbals. All three sites offer customers detailed information of each product as well as the ability to compare pricing and information on similar products in stock, choose home delivery or pickup at store, custom or special orders, and most importantly… the ability to click on each cymbal product to listen to its unique sound. Their sites deliver the convenience of an online store with the sensory experience of a brick-and-mortar location. This is very important to the Memphis Drum Shop since many of their customers travel nationally and worldwide.
But for those customers able to walk through the doors of the Memphis Drum Shop, their shop delivers a double dose of sensory overload with a world-famous Cymbal vault and five other showrooms stocked with new and vintage drum sets, one-of-a-kind percussions, gongs, and chimes. Local and world-renowned drummers perform live and offer workshops in a performance area located upstairs at least once a week. The shop also offers repair services and features a large library of drum catalogs dating back to the 1900's. For those seeking percussion wisdom or simply looking to take up the drums, the shop has seven percussion teachers on staff to help customers answer any questions. Memphis Drum Shop owners, Jim and Nancy Pettit, have fashioned the shop to be the ultimate destination shop for drummers and tourists alike. One may say they have perfected the art of delivering the ultimate customer in-store experience.

When asked what he considers is the single biggest change today's retail industry has undergone, Jim Pettit noted that the level of expectation from customers has increased greatly. For this reason, the Memphis Drum Shop aims for 100% accurate information and order fulfillment for their customers across every channel. An endeavor not so easily taken considering the large variety of products offered both online and in-store. This is where One Step took the stage.
In 2011, Memphis Drum Shop had outgrown their Peachtree POS System. While exploring options for a new system, they knew they would require a system with extensive inventory tools capable of managing their vast selection of instruments available online and in-store that also allowed for immediate access to product information to more accurately service their customers. After reviewing their business needs and future goals, we introduced them to NCR Counterpoint.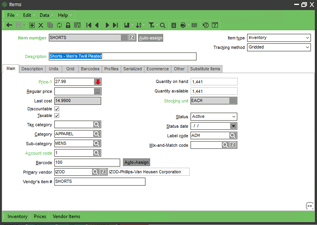 Counterpoint's inventory tracking software can track quantities and transactions for inventory items across multiple stocking locations allowing retailers to easily manage and allocate their inventory across their entire organization. They can record a variety of information for each item, including category, subcategory, and up to six user-defined attributes that allow them to group their items however they choose. A feature that has proven useful for their customized sound clips and demo videos is the ability to assign such media to each item that can be reviewed when they search for an item or can be displayed automatically at the point of sale. NCR Counterpoint's tools provide the ability to record and access every bit of information on their products easily and quickly, allowing them to do what they enjoy the most … service their customers 100%.
We have supported the Memphis Drum Shop's endeavor to meet their customers' expectations for the past 7 years. Our thorough knowledge of NCR Counterpoint has allowed us to help Memphis Drum Shop use the system's Inventory Management Solution and its other powerful features to their fullest potential.
We asked Jim Pettit what is next for his brand.
"Continuing to listen to the customers, focus on our core products, and make even better presentations." — Jim Pettit, Owner of Memphis Drum Shop
Jim Pettit's focus is to stay relevant with the industry, maintain their desired level of customer service, and have fun!