Written by Travis Wilson and Bobby Nairn, One Step Retail Bloggers | 4 MIN READ
---
The leaves are changing and Autumn is beginning to show its true colors. Before you know it, holiday shoppers will be lining the streets looking for the perfect gift for that special someone. However, a holiday shopper in 2019/2020 is a much different shopper than the one from years past. Today's shoppers have access to more information than ever before, much higher expectations for customer experience, and an array of buying options.
According to the 2018 Global Path to Purchase survey, more than 67% of shoppers that left a store without purchasing anything did so because the store didn't have the item the customer wanted available. During the holiday shopping, this occurrence is quite common—for retailers, this means that each of these events could be considered a lost sale, bad experience, or worse, the chance that a customer may never walk into your store again. The good news? There are ways to help prevent this from happening at your stores. Especially since the last two months of the year can account for between 20-40% of your annual sales.
See How An OMS Can Work For Your Business →
So how exactly can we avoid these situations?
Before we can examine a solution, let's take a closer look at the issue. Here's a familiar example for you.
Has this ever happened to you?
You visit a store and find an item that you love but the sizing just isn't right. You locate a store associate to ask if they have another size in stock. They reply with that line we all dread to hear, "whatever's out there is what we have." There's a number of reasons this can happen, but ultimately, due to this kind of experience—your business will miss out on a sale.

How can a retailer fix this issue?
The answer to this question can be found in a complete unified shopping solution that features a robust and customizable order management system (OMS). A smart, and even more powerful OMS will allow you to find and manage items quickly and accurately, regardless of wherever the item is currently located. You can order these items to be shipped to your store, picked up from another location, or delivered to your customer's home. From a mobile POS solution you can make all of this happen without ever leaving your customer's side.
How does an OMS like this work in practice?A loyal customer of yours walks into your Downtown Los Angeles location. Let's call her "Sarah." Fall is well underway, so for the sake of this example, let's say that Sarah is shopping the latest Fall sweater trends. Sarah comes across a piece that she cannot possibly live without (#SweaterWeather,) but you're all out of size XS on the floor and you do not have any remaining in stock at your DTLA location. Your store associate, equipped with just an iPad, notices Sarah aggressively shuffling through a pile of sweaters struggling to find the size she needs.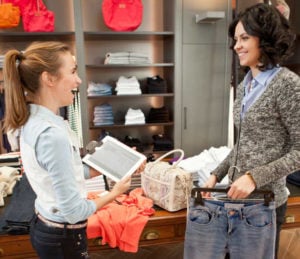 After the store associate offers their assistance, she explains her dilemma. The store associate reacts by pulling up the item from their mobile POS iPad. Here's where it gets good… your order management system scans all of the other locations to see which stores in close proximity have the greatest quantities available. After determining the most convenient store for Sarah to pick up her new sweater, you let her know that your location in Larchmont Village, just 2.3 miles away, will be holding the item for her. After consideration, Sarah decides that hopping into an Uber and dealing with LA traffic for a sweater isn't exactly how she planned to spend her Saturday, yet she still really wants the sweater… NOW! Understanding the predicament she's in, you let her know that you can have the item shipped to your DTLA store by 5 pm today which means that she would only have to brave a short walk over from her apartment this evening to pick up her prized sweater, same day (take that Amazon)!
Finally able to breathe and satisfied with this solution, your store associate places the order from an iPad with one simple click. Smiles all around.Until...
Sarah's friends invited her to dinner at Bestia. If you aren't familiar with Bestia, it's arguably the best restaurant in all of Los Angeles, and when you're invited to Bestia, Fall sweater trends may suddenly not seem as important anymore.
Sarah chats with a member of your customer service team on Facebook messenger and lets them know about her change of heart. She is willing to wait an additional day and would prefer to have the sweater shipped directly to her apartment.
So what kind of problem does this cause for the order you already placed to be fulfilled by 5 pm today at your DTLA location? No problem at all.
Your OMS is prepared to handle situations just like this. You look up her previous order and see that the item has already been shipped to your DTLA location. Many retailers would tell you that it's too late to make an update to the order, but is it? Thanks to the management functionality in your OMS, you can quickly create a cancellation and generate a new purchase order based on a variety of factors including cost and convenience.
Shipping the order is done natively from your POS and tracking information can be entered once the order is shipped. Simultaneously the order will be updated in your OMS, and then Sarah will receive real-time updates on the status of her item. Everyone wins.
The key differentiator in a powerful OMS?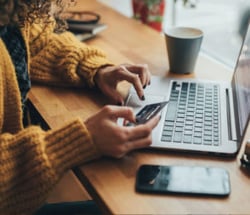 The latest game changer in a modern Order Management System is Order Fill Logic. Order Fill Logic makes it possible for you to create custom automation rules that allow for order fulfillment to become even easier than you could have imagined.As seen in the example above, scanning other store locations, generating a new order based on a variety of factors… that was Order Fill Logic. With Order Fill Logic, the goal of receiving, tracking, and fulfilling orders across all of your sales channels is much more attainable. Your OMS can be connected directly to your eCommerce website so that online orders and sales orders appear immediately after they are placed.
Order Fill Logic can look something like this: An order is pulled from your eCommerce website and is assigned to a location. The order can then check into the locations to see which location has the greatest quantity available, can check for "primary locations," or the user can create a rule for orders to check specific locations in a custom sequence. Once the order can be fulfilled by a location, Order Fill Logic will automatically create a Ship Memo which then notifies your POS to ship the order. Once the order is shipped, the order will be updated in the OMS and customers will be updated on their orders.
Click Now to Differentiate Yourself From The Competition →
Here's a look at how some of our clients are successful with their OMS…
LUXURY FASHION BRAND
Utilizing Commerce Cloud, this OMS implementation controls eCommerce orders for over 20 countries in multiple languages and currencies including mainland China. Shipments are made
utilizing inventory from stores in 10 countries and three warehouses in Sweden, NY, and China.
---
CONTEMPORARY BRAND
Utilizing Commerce Cloud for eCommerce orders from over 200 stores spanning the European countries and the United States. This retailer deploys their orders from a single warehouse in the United States.
---
CELEBRITY BRAND
Global OMS utilizing Commerce Cloud for eCommerce orders in over 20 countries. These countries include mainland China and have multiple languages and currencies. The items are shipped from three warehouses including NY, Hong Kong, and China.
---
STREETWEAR BRAND
Supporting its eCommerce business with Shopify Plus, this brand operates exclusively in the United States. Teamwork's OMS has processed over 17,000 orders in a day and multiple 1000's in a single hour for this retailer.