A Letter from Simpson Performance Products:
To Whom It May Concern,
The 2017 NHRA season was the first for Simpson Performance Products on Counterpoint SQL. With the help of our One Step Implementation Specialist and Custom Programmer, we had a successful season with Counterpoint.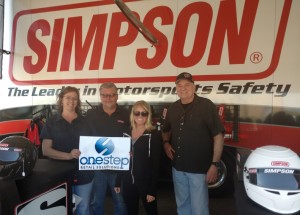 One Step presented us with a project plan and Counterpoint was implemented with the help of that plan. We were very satisfied with the implementation, training, and installations done by the One Step Retail Solutions team. We find we really like the ease of use with Counterpoint, allowing for fast, high-volume transactions at the point of sale.

Our project required virtual and on-site training. A few challenges were encountered along the way, but we were able to overcome them with the help of the One Step team.


As we get ready to go into the 2018 NHRA season, we are looking forward to using Counterpoint and working with the One Step Retail team.
Best,
Frank Wall
VP Information Systems
Simpson Performance Products
---
Simpson Performance Products Inc. designs and manufactures racing safety equipment for the motorsport industry. From head and neck restraints to custom racing suits, Simpson Race Products has been providing racers the equipment needed to stay safe on and off the track. To learn more about Simpson Performance Products Inc., visit them at simpsonraceproducts.com
---
Interested in NCR Counterpoint?
Visit our NCR Counterpoint page to learn more about their complete retail management solution for specialty retailers.