Written by Travis Wilson, One Step Retail Blogger | 5 MIN READ
---
Merchant To Merchant is a podcast about digital commerce that is created by merchants for merchants. Every few months or so the podcast's producer, Ecommerce solutions agency Something Digital, teams up with other hosting partners to provide a networking opportunity unlike any other for retailers and other retail service providers that is both unique and a lot of fun. These events feature a live audience recording of the Merchant to Merchant Podcast which features a themed roundtable discussion, plus a Q&A session that allows audience guests to ask questions about these themes that directly impact their business.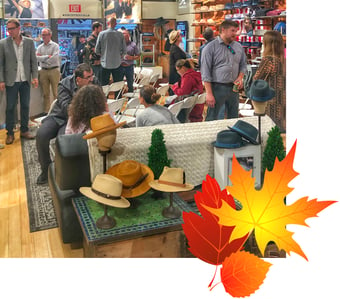 Why are we falling for Merchant To Merchant? The always interesting and very energetic podcast focuses on big ideas and topics that influence today's retailers. The host, panelists, and guests are well informed about the topics at hand and offer an honest and real look into how they are navigating an evolving retail landscape.
Some of the past topics that the podcast has covered are: Empathy and Humility, Social Enterprise, "The Way it's [sic] Always Been Done," "Frenemies," and Going Global Isn't Easy. Something Digital is remarkably versatile about exploring a variety of trending topics important to the industry today and have a knack for selecting themes that inspire audience participation. The show understands who its listeners are and they deliver with a lively discussion in each episode.
Recently One Step Retail was honored to serve as one of the hosts for their latest roundtable discussion held at Bollman Hats in Santa Monica, CA—a classic haberdashery that fits into the modern world. The theme for the night's event was "Purity of Vision for Modern Brands." A few One Step team members were on hand to take part in the festivities, along with ALO Yoga, a client of One Step's, sharing their experiences as a panelist.
---
From Studio-to-Street with Alo Yoga
You may not have known that ALO was an acronym for air, land, ocean. But, I would be shocked if you haven't heard of, Alo Yoga, the LA-based athleisure wear brand, that has undoubtedly flooded your Instagram feed—worn by trendsetting yogis and celebrities such as Taylor Swift, Kendal Jenner, the Hadid Sisters, and Hailey Bieber.
Alo Yoga began in 2007 and was founded to spread good by bringing yoga to the world: "To anyone who is experiencing the transformative power of yoga, to the world's best yogis who wear Alo because it's the only line that actually elevates their practice, to the celebrities and the fashion-forward who wear Alo because it's the perfect street brand, comfortable, contemporary and decidedly not just for the mat."






Transform your Business with the Right Technology →

Mindful movement, inspiring wellness, and creating community is at the core of everything Alo represents. Alo's clothing is made mindfully modern and is just as comfortable on the mat as it is fulfilling your daily to-do's—acknowledging the versatile role of modern athleisure wear. Every collection starts with fashion, so each piece looks as incredible as it performs.
Today, in a billion-dollar athleisure market, Alo is setting itself apart from the competition with exceptional branding, an incredible community full of yogis, influencers and partners, a highly-engaged Instagram channel, and life-changing customer experiences.


AloMoves
AloMoves is yet another way Alo Yoga is spreading its mission of bringing yoga to the world. Available on phone, tablet, and web, for just $20 per month (try it 2 weeks free), yogis have access to inspiring classes and workshops led by the "om-azing" teachers from the Alo Yoga family.
"You probably know by now that Alo Yoga is the leading authority on all things athleisure, but what if we told you they also have an incredible, nay, perfect tablet, mobile, and desktop application for yoga on the go as well? We'd like to introduce you to AloMoves, Alo Yoga's unique app for your exercise journey, wherever you may go in the world."
Sporteluxe, Why Alo Yoga's AloMoves Is The Only Exercise App We Use
New video releases are added daily to keep your practice fresh while gaining strength, inside and out, with the help of world-class instructors and personalized plans to achieve your goals.







AloGives
AloGives was created by Alo Yoga co-founder, Danny Harris, to give children access to the benefits of yoga and meditation. Their mission is to bring no-cost yoga to children everywhere and is designed specifically to help kids "quiet their minds, find calm when challenged, mute negativity, gain focus, and learn more easily." Scholastic was the perfect partner to help Alo bring yoga to the classroom with a 12 week curriculum that makes it easy for teachers or parents to share yoga with their children in just 5 minutes each day.
"I love teaching my students about mindfulness and handling emotions in healthy ways!"
Taylor P., Social Emotional & Behavioral Instruction Specialist
While the early days of the program have been focused on the benefits for kids—Alo has stated that they would love to create a Gives program to address the needs of military members, first responders, and veterans.
One Step Retail Solutions has partnered with Alo Yoga to offer an unparalleled, unified customer experience since 2017. And, will continue to support their retail vision as they grow into a global brand spreading mindfulness around the world.
"Our technology makes it easy for us to scale from 6 stores to 60 stores."
Nick Jaquay, IT Operations Manager, Alo Yoga

Go Behind the Scenes with Alo Yoga's Retail Technology Here →



---
What did One Step have to say about the event?
Marc Rezvani, a Client Success Manager at One Step, thought a lot about adding the human touch in a digital world saying this:
"As a professional for a technology solution provider, we are constantly striving to get automation in place to achieve efficiency and take human involvement out of the equation, but it was interesting to see at our M2M event a reminder that we all do this for humans, and retailers like Alo are in the business of making lives better and more enjoyable. They accomplish this through their in-person, and online, interactions with the public and a focus on making the world a better place. There might be a lot of talk and thought about the robots taking over but personally I'm encouraged by events like this to see that even with all of the digital noise, we can maintain our humanity and all be there for each other."
Retail Technology Consultant Han Tao really enjoyed the food, provided by the famous Kogi Korean BBQ Food Truck. Besides the food, he especially wanted to thank the venue who worked very hard to put on a great show for the people there. Guest speaker Gabriel Schlumberger, and how his 3D printed eyewear company, Fitz Frames, continues to hold on to the "start-up mentality" was a particularly high note for him. But he was very impressed at how informative all of the speakers were about the topic, "Purity of vision," and the industry.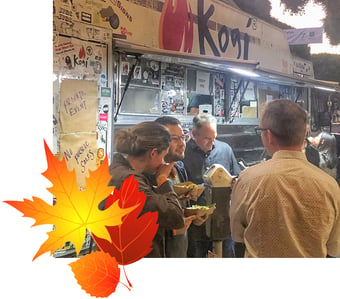 Director of Marketing, Bobby Nairn had lots of great things to say about the event:"I'm a big fan of Merchant to Merchant events. Something Digital seems to have the right recipe for an engaging evening—from the network of people you can mingle with and incredible cuisine to the thought-provoking conversations and inspiring panel of speakers. Despite having near 50 attendees, the environment felt intimate, which gave everyone the opportunity to share their thoughts and ask questions. It was really interesting for me to see how retailers with different goals, at different stages in growth, manage customer expectations and use technology to improve their customer experience. It was especially exciting to hear Nick from ALO Yoga say that "Their technology makes it easy for them to scale from 6 stores to 60 stores," which to me was just about the best vote of confidence he could give our business since we are not only involved in the selection of a brand's technology but the ongoing success of it too. All in all, a fantastic event, and a big thank you to the good people at Something Digital, Shopify Plus, and MuteSix for partnering with us."
The main conclusion of the night was that the speakers were amazingly informative and fun, and the venue was the perfect intimate setting that leads to a great discussion on an even better subject. We hope that we can be a part of an event like this again in the future.

Transform your Business with the Right Technology →